Ferrero Kinder Bueno Mini Bag 108g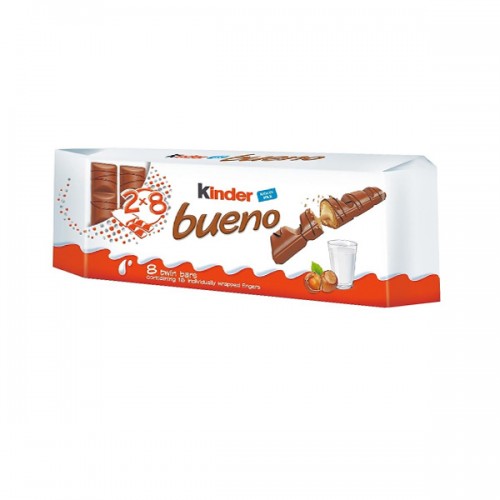 Kinder Bueno is a fine composition from airy, crispy waffer and tender milk hazelnut cream, covered with two different types of chocolate.
Now big pleasure in small bites: Kinder Bueno Minis - minis for snacking all day. 20 pieces in a bag, individually wrapped and ready to delight your sences


Ingredients:
Milk Chocolate 31%(Sugar,cocoa Butter ,cocoa Mass,skimmed Milk Powder,concentrated Butter ,emulsifier:lecithins(Soya) ,vanillin),sugar,palm Oil,wheat Flour,hazelnuts (10.5%),skimmed Milk Powder, Milk Powder,chocolate(Sugar,cocoa Mass,cocoa Butter , Emulsifier:lecithins (Soya) ,vanillin,fat-reduced Cocoa , Emulsifier:lecithins(Soya), raising Agents(Sodium Bicarbonate,ammonium Bicarbonate).salt,vanillin. Total Milk Constituents: 19%.