Ferrero Kinder Bueno 344g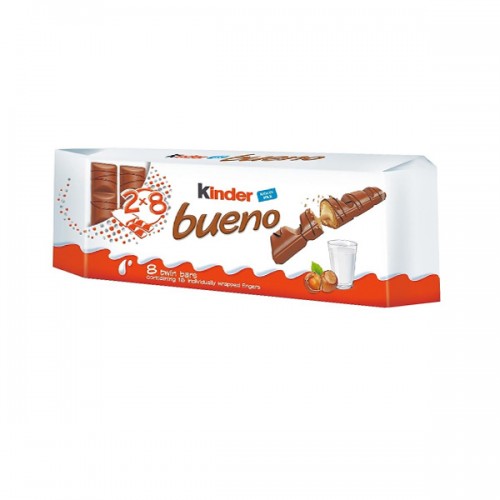 Kinder Bueno is a fine composition from airy, crispy waffer and tender milk hazelnut cream, covered with two different types of chocolate. Each bar consists of four minis in a row. This creates a unique acting slightly pleasurable experience.
8 Kinder Buenos

Ingredients:
Milk chocolate 31.5% (sugar, cocoa butter, cocoa mass, skimmed milk powder, butterfat, emulsifier soya lecithin, vanillin), sugar, vegetable fat, wheat flour, hazelnuts (10.8%), skimmed milk powder, whole milk powder, semi-sweet chocolate, low fat cocoa, emulsifier soya lecithin , raising agent sodium bicarbonate, ammonium carbonate, salt, vanillin.