7Days Bake Rolls Onion and Cream 112g 5201360609505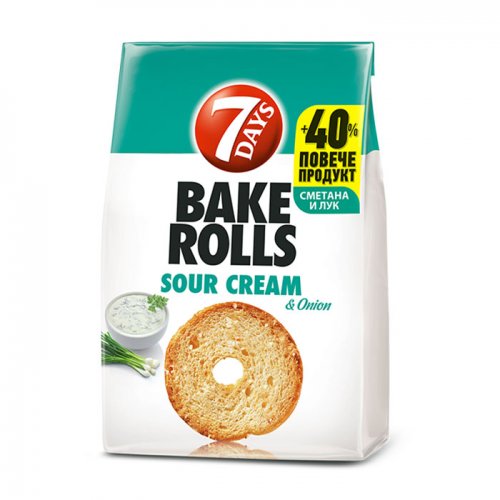 7Days Bake Rolls Onion and Cream are thinly sliced double baked, extra crunchy, bread chips seasoned with onion and cream flavor, as well as other spices for an extraordinary taste and experience! 7Days Bake Rolls are available in a wide range of unique flavors to enjoy everyday on different occasions.

Ingredients:
WHEAT FLOUR, palm oil, sour cream and onion seasoning mix 4% [maltodextrin, dextrose, onion powder 15% *, starch, parsley, garlic powder, acidity regulator (lactic acid), natural flavor, sunflower oil], table salt, sugar, yeast, SOYA flour, * sourced on seasoning mix.
May contain traces of celery, sesame seeds and nuts.
Nutritional values per 100g:
Energy value: 449.00 kilocalories (kcal) Energy value: 1,888.00 kilojoules (kJ) Fat: 15.00 Fat, of which saturated fatty acids: 7.00 Carbohydrates: 64.00 Carbohydrates, of which sugars: 6.00 Protein: 13.00 Salt: 2.80