Nestle LION Cereal Caramel & Choco 350g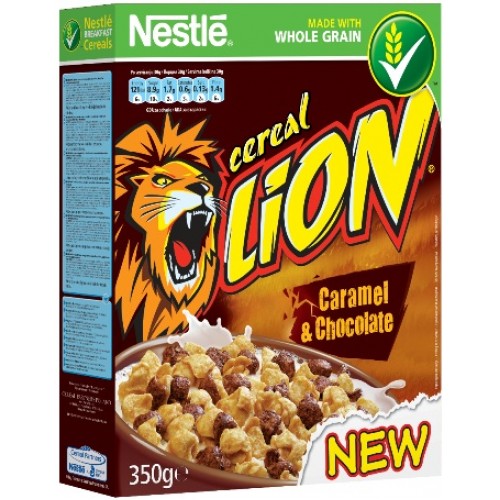 Nestle LION Caramel & Choco - the delicious chocolate and caramel flavour of Lion bar in a tasty whole grain cereal.

Ingredients
Cereal Grains (59%) (Whole Grain Wheat, Wheat Flour, Rice Flour), Sugar, Caramel Paste (8.5%)(Sweetened Condensed Skimmed Milk, Sugar, Glucose Syrup, Butter Fat, Gelling Agent: Pectin, Preservative: Potassium Sorbate, Salt, Flavouring), Glucose Syrup, Vegetable Oil, Cocoa Powder (1.7%), Dextrose, Cocoa Mass (0.8%), Salt, Flavourings: Vanillin and Caramel Flavour, Emulsifier: Soya Lecithin, Colour: Caramel, Vitamins and Minerals: Vitamin C, Niacin, Pantothenic Acid, Riboflavin (B2), Vitamin B6, Thiamin (B1), Folic Acid (Folacin), Vitamin B12, Calcium Carbonate and Iron.
To produce 100g of this product 35g of Whole Grain was included in the recipe.
Views: 11588
Brand: Nestle
Product Code:

Nestle LION Cereal Caramel & Choco 350g

Availability:

In Stock
Tags: breakfast, caramel, caramel and choco, cereal, children, chocolate, flakes, healthy, lion, minerals, nestle, vitamins, whole grain