Nestle Coffee-Mate 50g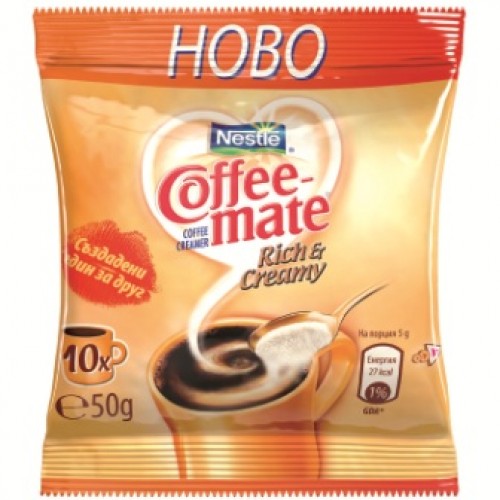 Coffee-Mate makes your cup of coffee taste great. Enjoy rich, creamy taste - lactose and cholesterol free.
The perfect partner to coffee. A non-dairy creamer that is lactose and cholesterol free and makes your coffee richer, smoother and creamier.
Varieties include convenient liquids, powders, concentrates, reduced fat and sugar free, as well as a many enticing flavours.
A healthy diet low in saturated and trans fats may reduce the risk of heart disease.
COFFEE-MATE is low in saturated and trans fats.
Ingredients
GLUCOSE SYRUP, HYDROGENATED VEGETABLE OIL (MAY CONTAIN COCONUT, PALM KERNEL AND/OR SOYBEAN OIL), SODIUM CASEINATE (A MILK DERIVATIVE), DIPOSTASSIUM PHOSPHATE, SODIUM ALUMINUM SILICATE, MONOGLYCERIDES, ACETYLATED TARTARIC ACID ESTERS OF MONO- AND DYGLYCERIDES, ARTIFICIAL FLAVOUR, COLOUR
Good to Remember
People who are lactose intolerant lack enough of an enzyme called lactase to completely digest a natural sugar found in milk called lactose. All COFFEE-MATE coffee whiteners are lactose free*.

*as with all coffee whiteners