LU TUC Cheese Crackers 100g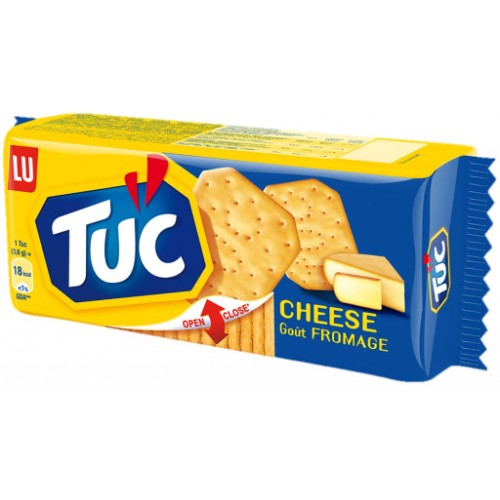 Do you know what makes the success of Tuc for generations? It is cooked and browned in the oven which gives its unique lightness and crispness. Rich in wheat, Tuc Crackers pleasantly satisfy your short breaks during the day.
LU TUC Cheese Crackers 100g

Ingredients
61.6% wheat flour, vegetable fat, cheese powder 10.1%, raising agent: ammonium hydrogen carbonate, sodium hydrogen carbonate, dried yeast, glucose syrup, sugar, salt, whey powder, malt extract barley, acidity regulator: lactic acid, natural flavors (cheese and pepper), agent flour treatment: sodium sulphite, emulsifier: soy lecithin. Contains: gluten, soy, milk, sulfite. Manufactured in a factory that uses: egg, sésame.Contient: Gluten, Milk, Soy, Sulphites.
Energy value per 100g product​​: 495 kcal (2080 kJ). Protein 8.4g, Carbohydrates 62g, Fat 24g.