Ferrero Kinder Delice Kokos 42g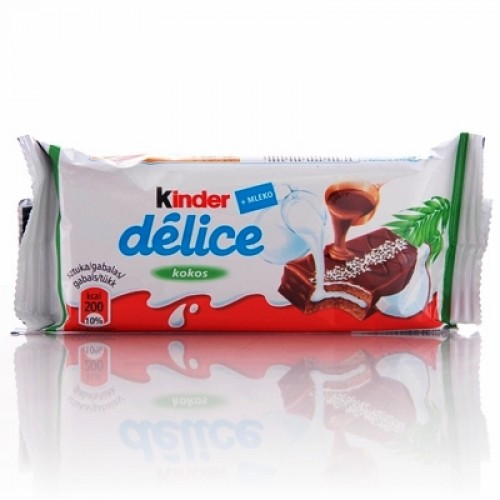 Ferrero Kinder Delice Kokos is fine pound cake, filled with rich smooth milk cream and coated with bittersweet chocolate and decorated with greted coconut. One delicious snack for the whole family, perfectfor the little hunger in-between meals.

Ingredients:
Sugar, vegetable fat, whole milk powder (9%), wheat flour, eggs, 7.5% coconut oil (coconut milk powder 4.1%, 3.4% coconut), skimmed milk powder (5, 5%), glucose-fructose syrup, cocoa powder, low fat (3%), vegetable oil, whey powder, flavoring, leavening (ammonium carbonate, sodium bicarbonate), emulsifier (lecithin (soy), mono-and diglycerides of fatty acids), concentrated lemon juice, whey, salt.
Nutrition Facts:

191 calories in 1 serving of Ferrero kinder delice. Calorie breakdown: 57% fat, 37% carbs, 6% protein.