Ferrero Golden Gallery 216g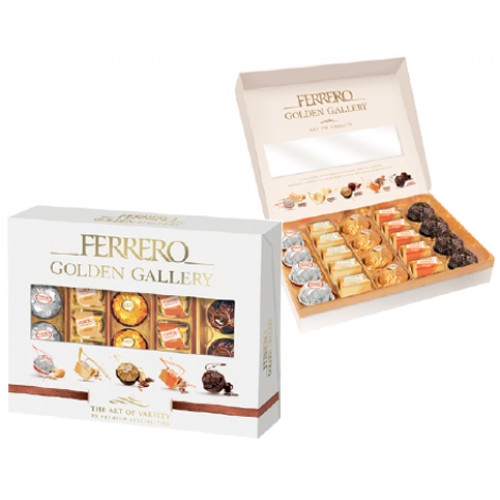 Ferrero Golden Gallery 216g is a great way to introduce someone to the Ferrero world and help them find their favourites, each individually wrapped to bring a truly unique experience:
Ferrero Manderly - A crunchy specialty with a velvety hazelnut cream filling; a sweet prelude to the unmistakable taste of almond.
Ferrero Rondnoir - A delicious combination of tastes and textures from fine wafer and rich velvety cocoa filling to a dark chocolate covered hazelnut at its heart.
Ferrero Tenderly white - The smoothness of white chocolate and a whole hazelnut combine to create a perfect harmony.
Ferrero Tenderly nougat - The citrusy notes of a creamy nougat filling meet the intense crunchiness of a whole hazelnut in a case of fine milk chocolate.
Ferrero Rocher - A whole hazelnut surrounded by delicious layers of crispy wafer, a velvety filling, smooth milk chocolate and finely chopped hazelnut pieces.