Bornier Capers 160g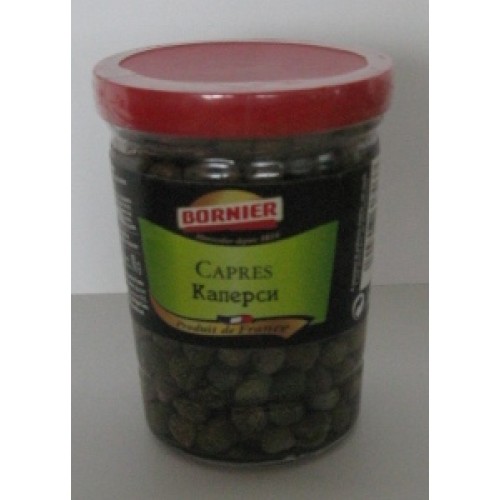 Bornier Capers 160g
These are pickled flower buds of a perennial herb "Capperis Spinosa L". In culinary capers as a seasoning used in soups, sauces, meat and fish dishes, and cooking of meat, pickles and cold dishes (for 1 dish of 4 servings is used no more than 1-2 tablespoons capers). Vitamin composition and partly flavonokdits make them useful spice and foods.
Capers contain polyphenols glycolic related essential oils, saponins, alkaloids (kaparndin) and others. They cause the release of secretions in the gastrointestinal tract (essential oil), assisting the body in its fight against pathogenic microorganisms (polyphenols).
Since its founding in 1816 until today, French company Bornier continues to use traditional techniques to produce mustard. Their mustard is prepared entirely from natural ingredients, contains no artificial preservatives and is 100% natural product. The main difference between this brand of mustard and those that are widely available on the market is that Bornier is made from mustard seeds, not from horseradish.