Barilla Lasagne with Spinach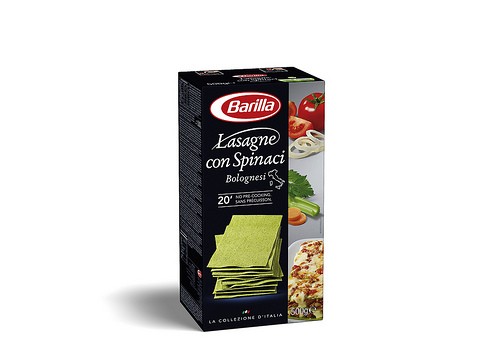 Lasagne con Spinaci are rectangles of durum wheat semolina with spinach, a variant of the classical formulation, which convinces through the harmonious interaction of intense and delicate flavors. With its finely rolled pastry Lasagna con Spinaci La Collezione are ready to serve in just 20 minutes in the oven.
The recipe for lasagna come from Central or Northern Italy, specifically from the region of Emilia. Here came the real tradition of thinly rolled-out dough, called on sfloglia.
The over one hundred years of experience in the manufacture pasta, Barilla was able to collect, has helped this tradition back to life. Lasagne con Spinaci in the variant of the delicate spinach taste comes to fruition is another success of La Collezione Barilla product line.