Ferrero Kinder Happy Hippo Hazelnut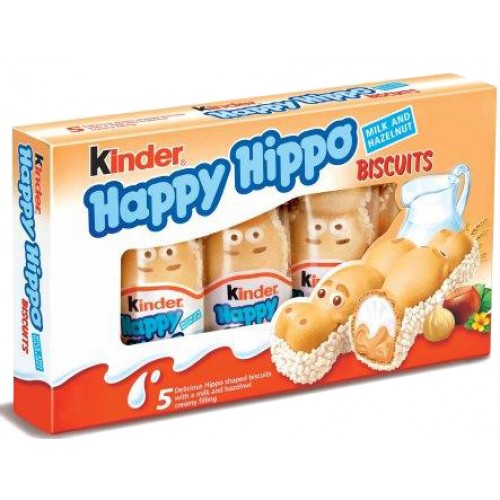 Kinder Happy Hippo Hazelnut is a smooth and rich Hazelnut Cream filling inside in a crispy, coated with meringue wafer chips. Crispy on the outside, smooth and creamy on the inside. A special taste experience for young and old. Each Happy Hippo Hazelnut is individually wrapped for freshness. In order to always keep a supply at home, you want to get the stock 5-pack. Content of 103.5 g package.

Ingredients:
Sugar, vegetable oil and fat, wheat flour, whole milk powder (7.5%), skimmed milk powder (5%), fat-reduced cocoa (4.5%), hazelnuts, whey powder, emulsifier: lecithins (soya), cocoa mass, wheat starch, milk proteins, cocoa butter, raising agents (sodium hydrogen carbonate, ammonium carbonate), salt, vanillin.
Nutrition Facts: