Ferrero Kinder Pingui Coconut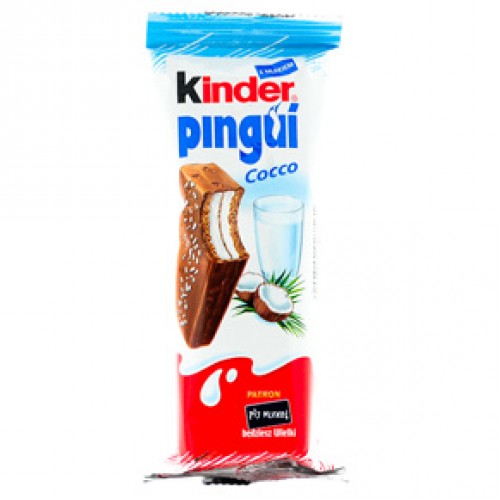 Kinder Pingui Coconut is a tasty snack filled with delicious milk cream, contains nutrients, which are also important for children's healthy development. The combination of milk chocolate, cream, cake and soft grated coconut makes Kinder Pingui melting in your mouth. This product must be stored in refrigerator.
Store this product in refrigerator.
Ingredients:
Milk chocolate 24% ( cocoa butter, sugar, whole milk powder, cocoa, coconut milk powder, emulsifier lecithin (soy), flavor, pasteurized milk (21%), sugar, vegetable fat, wheat flour, skimmed milk powder, 5% coconut (3,5% coconut milk powder, 1,5% dried coconut), dextrose, dehydrated butter, eggs, vegetable oil, cocoa powder, reduced-fat, yeast, flavor, emulsifier (mono and diglycerides of fatty fat), cocoa powder, whey concentrate, salt.
Nutrition Facts: