Nestle MUSLI Almonds, Nuts & Granola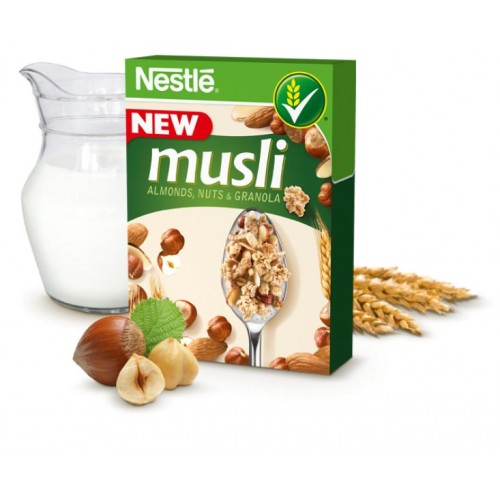 NEW! Crunchy muesli from Nestle - Nestle MUSLI Almonds, Nuts & Granola
The combination of crunchy muesli, oat flakes and pieces of almonds and hazelnuts.
Contains: whole-grain cereals, protein and fiber
Ingredients:
Oat and wheat flakes with nuts flavor 77.4%: cereals (whole grain oats, whole wheat), sugar, glucose syrup, vegetable oil, emulsifier: soy lecithin, nutty flavor; baked muesli 10%: cereals (wholegrain oats, extruded rice wheat flour), sugar, vegetable oil, glucose syrup, honey, barley malt extract, flavor, salt, 8.6% extruded Krupinka: cereals (whole wheat and whole grain corn flour), sugar, corn starch, barley malt extract, salt, vegetable oil, acidity regulator: sodium phosphate, antioxidant: natural extract with high content of tocopherols; 3% almonds, hazelnuts kernels 1%.
May contain traces of sesame, peanuts and milk.
Store in a cool, dry place.