Milka M-Joy Peanuts & Flakes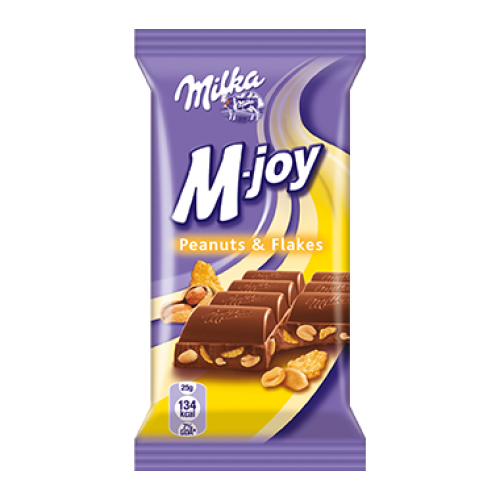 M-Joy Peanuts and Flakes softly melting Milka alpine milk chocolate filled with whole plump, crunchy peanuts and crispy corn flake pieces - the handy snack between meals and travel.
Alpine milk chocolate with salted peanuts (18%) and Cornflakes (5%).
Ingredients:
Sugar, salted peanuts (peanuts, pfanzliches oil, salt), cocoa butter, skimmed milk powder, cocoa mass, sweet whey powder, corn, butter, hazelnuts, emulsifier (soy lecithin), salt, barley malt, flavor (vanillin). Cocoa: 30% minimum in the Alpine milk chocolate.
CONTAINS PEANUTS, DAIRY, HAZELNUTS, SOYBEAN, BARLEY. MAY CONTAIN TRACES OF NUTS AND OTHER CONTAIN WHEAT.