Nestle Fitness Cereal Bar Chocolate & Hazelnuts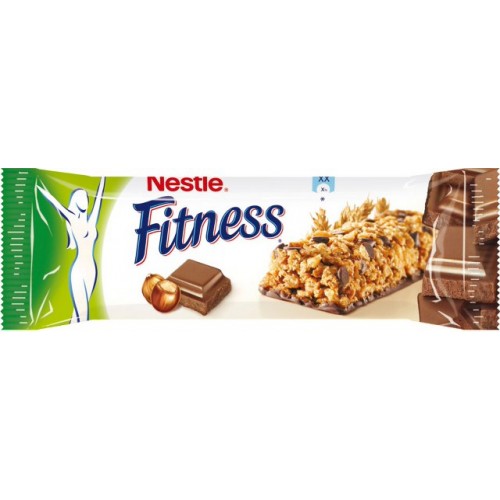 Nestle Fitness Cereal Bars have all the enjoyment of a delicious dessert without guilt, because each bar contains less than 93 calories.
Cereal bars are available in four natural flavors, strawberry, chocolate and chocolate and hazelnuts.
Fitness favorite breakfast cereals are also available in a convenient package - in the form of sticks. Fitness sticks are a great quick snack anywhere, anytime.
Contains:7 vitamins, calcium, iron, fiber

Ingredients:
Cereals 40.5% (24.6% wholegrain wheat, rice 15.9%), milk chocolate 15% (sugar, cocoa butter, milk powder, cocoa mass, butterfat, whey powder, emulsifier: soy lecithin, flavors), glucose syrup, barley malt extract, moisturizing agents (glycerol, sorbitol syrup), invert sugar syrup, caramelized puffed rice (puffed rice, sugar, palm oil, glucose syrup, caramel), sugar, fructooligosaccharides, palm oil, salt, hazelnut flavor, emulsifier (sunflower lecithin), acidity regulator (sodium phosphate), antioxidant (natural extract with high content of tocopherol), vitamins and minerals (see product packaging).
May contain traces of peanuts and nuts.
Store in a dry place at room temperature.