Smarties Pop Up Ice Cream 4x85ml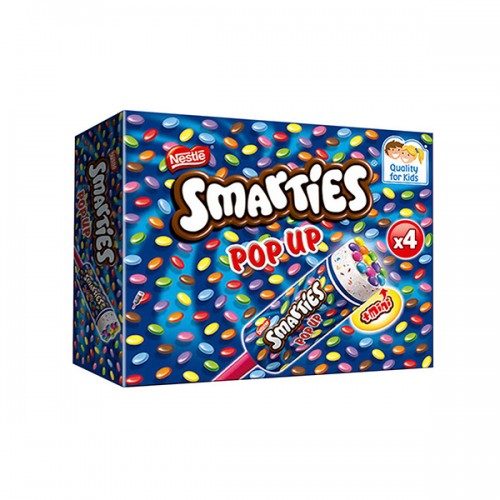 Smarties in a new form - ice cream Vanilla Flavour Ice Cream with Whole Mini and Crushed Milk Chocolate Pieces in a Crisp Sugar Shell (18%)

Ingredients:
Skimmed milk, water, glucose syrup, sugar, invert sugar syrup, whey powder from milk, vegetable fats (palm, coconut), cocoa butter, skimmed milk powder, cocoa liquor, wheat flour, butter oil, emulsifiers ( mono and diglycerides of fatty acids, lecithin), rice starch, stabilisers ( locust bean gum, guar gum, carrageenan), natural flavouring, natural vanilla flavourings, glazing agents (shellac, carnauba wax, bees wax), spirulina concentrate, fruit and vegetable concentrates (safflower, radish, black carrot, lemon, hibiscus, red cabbage).
Producer: Nestle
The listed products may be subject to recipe changes.
Binding information on nutritional values and ingredients can be found on the respective product packaging.