Daim Ice Cream 480ml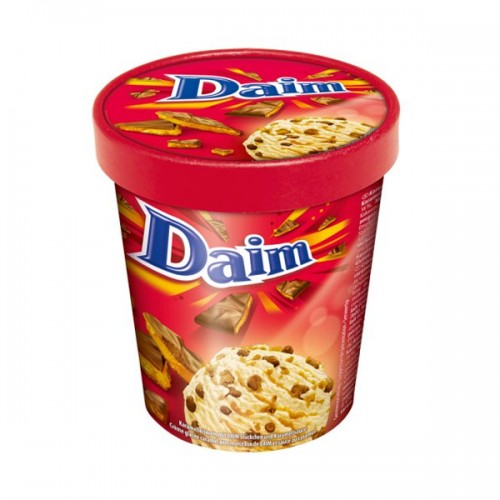 Daim Ice Cream 480ml / 410g - Caramel ice cream (8% milkfat) with milk chocolate drops with almond caramel filling 19%.
12 pack

Ingredients:
skimmed milk, milk chocolate drops with almond caramel filling (sugar, palm oil, cocoa butter, cocoa mass, almond (3%), sweet whey powder, skimmed milk powder, butter, whey, sweetened condensed milk, salt, emulsifier (soya lecithin), coating (gum arabic, maltodextrin) , flavorings), cream 18%, glucose syrup, sugar, whey, caramel paste 3%, (sugar, glucose syrup, water), skimmed milk powder, emulsifier (mono- and diglycerides of fatty acids), stabilizers (locust bean gum, guar gum), flavoring.
May contain: hazelnuts, pistachios, macadamia nuts, pecans, peanuts, egg, and gluten.
Producer: Mondelez
Origin: Germany

The listed products may be subject to recipe changes.
Binding information on nutritional values and ingredients can be found on the respective product packaging.