TOBLERONE Ice Cream Stick 4-Pack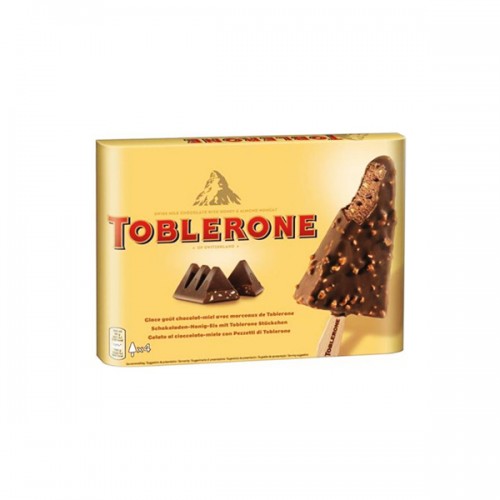 Your favorite chocolate now in summer reincarnation: TOBLERONE Ice Cream Stick 4-Pack (4x100ml) - chocolate-honey ice cream with milk chocolate pieces with honey and almond nougat pieces coated with milk chocolate with nougat pieces
Ingredients:
Skimmed milk, sugar, whey product, cocoa butter, coconut fat, glucose syrup, honey 4%, ground almonds, butter fat, milk chocolate pieces with honey and almond nougat (sugar, whole milk powder, cocoa butter, cocoa mass, honey 3%, butterfat, almonds 1,5%, emulsifier ( Soy lecithins), egg white, flavorings), cocoa mass, low-fat cocoa 2%, skimmed milk powder, chopped almonds, lactose, emulsifiers (mono- and diglycerides of fatty acids, lecithin (soy), E476), stabilizers (carob seed flour, guar gum), egg protein, aromas.
May contain: hazelnuts, walnuts, pistachios, macadamia nuts, pecans, cashews, peanuts, gluten.
It can be hard bits included.
Producer: Mondelez
Origin: Germany
! Our products may be subject to recipe changes.
Binding information on nutritional values and ingredients can be found on the respective product packaging.

Views: 204
Brand: Mondelez / Kraft Foods
Product Code:

TOBLERONE Ice Cream Stick 4x100ml

Availability:

In Stock
Tags: toblerone ice cream, ice cream, toblerone, ice cream stick, 4-pack