Kinder Ice Cream Sandwich 60ml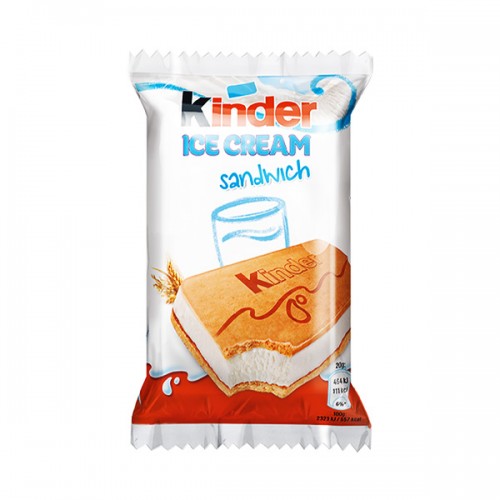 Kinder Ice Cream Sandwich 60ml - two delicious biscuits with Kinder milk ice cream between.
KINDER ICE CREAMS - discover the special ice cream range, dedicated to Kids!
Ingredients:
Pasteurized whole MILK, WHEAT flour (22%), reconstituted skimmed MILK, sugar, glucose syrup, coconut oil, glucose fructose syrup, milled cereal flakes mix (2.7%) (rice, OAT, WHEAT, BARLEY, RYE), fructose, CREAM, invert sugar syrup, BUTTER-OIL, whole MILK powder, skimmed MILK powder or concentrate, raising agents (ammonium bicarbonate, sodium bicarbonate), emulsifier (mono/diglycerides of fatty acids), flavoring, stabilizer (sodium alginate), salt, skimmed MILK powder, fat reduced cocoa powder. May contain: nuts, soy, egg.
Kinder Ice Cream Sandwich 8x60ml multipack


All Kinder single-serve ice creams are following strict nutritional guidelines to make sure they contain no more than:
110kcal per portion
3g saturated fat per portion (1.5g saturated fat if ≤60 kcal)
20g added sugar per 100g or 12 g total sugars per portion