Elle & Vire Butter 82% fat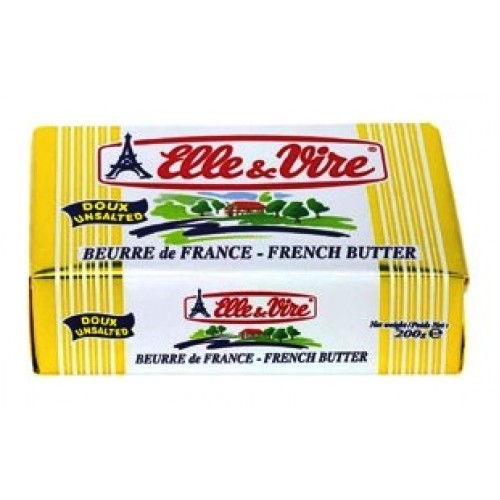 Elle & Vire Butter 82% fat 200g
This product has the "classic" for any real butter 82%-fat. Furthermore, it does not contain salt, spreads extremely easy and is suitable for preparation of all meals and sweets.

Fresh butter occupies an important place not only because of the unique taste it gives to every meal. The level of vitamin A and minerals in high quality butter cannot be reached by substitute as margarine, in which production is used vegetable fat, emulsifiers, preservatives, sugar and coloring. Thanks to the quality of the raw materials used (whole cow's milk from Normandy, one of the greenest regions in France), advanced production technology and strict supervision, Elle-et-vire ensures butter of exceptional quality and taste.
Butter brand Elle-et-vire contains no vegetable fats! Produced solely based on whole cow's milk! Contains no preservatives!